Forex Swing Trading Signals
Institutional quality low-frequency, long-term professional level forex swing trading signals are based on trend direction and price action markers.
Swing trading has been proven to be one of the most effective and profitable forex trading strategies for both professionals and those who are just starting out.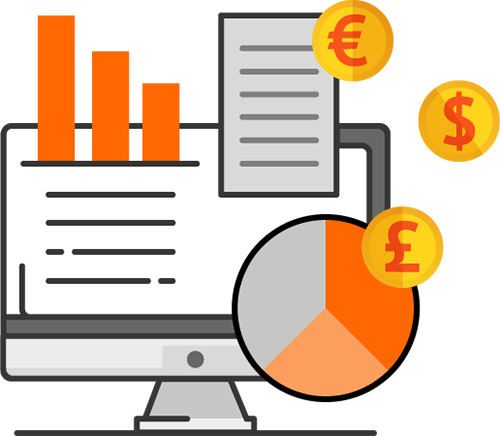 TRENDS
Forex swing trading signals are a proven means to profit from the ever-shifting markets. Get started today to profit.
MARKET
Forex is the most liquid market in the world, so you want to make sure your Forex signals are as effective as possible.
EXPERIENCE
Our trading mentors are here to help you. Use their 45+ years of experience to finally break into the markets.
FXPRO
One of the most well-known and effective trading strategies in forex is the use of stop loss orders. On the other hand, trading Forex on your own can be scary, especially for day traders. This is where FXPRO's Forex Swing Trading Signals come in. These signals will be sent to you by SMS when the market is expected to make a precise swing, allowing you to join and leave the market with confidence. By using FXPRO's Forex swing trading signals, you will be able to significantly improve your trading skills and make some real money!
If you want to improve your trading skills, FXPRO offers a forex swing trading style that will help you make informed trading choices. These are the best signals to improve consistency and precision, resulting in increased profitability. Whether you're a new or experienced trader, FXPRO signals can help you achieve your trading goals. Because swing trading Forex works best on longer time frames, opportunities are limited; you may only receive five to ten setups every month, but the return from each one can be substantially more than for day traders.
FXPRO signals are based on the popular technical analysis trading method. For instance, the FXPRO employs indicators and other technical tools to spot significant market moves. These shifts can lead to profitable trading opportunities, so traders must pay attention to these signals. Once you've signed up, you'll get an email anytime a new signal becomes available, no matter where you are in the world! It doesn't get any easier than that! Simply open the SMS message and follow the instructions.
Need 6 Good Reasons to Trade With Pipwizard?
The Pipwizard FXPRO trading signals are the most accurate and profitable in the market!
Our signals have a success rate of over 80%! and deliver maximum returns in pips for our subscribers.
Get started with FXPRO today for only $249/month to start seeing profits in your account immediately!
We have the largest group of professional traders who have years of experience in trading just about everything that moves daily, and our subscribers are very satisfied with our performance to date.
We also have access to decades' worth of market data, charts, and technical indicators, which enables us to make consistent profits in the FX and Crypto markets!
Because we know how the markets move intimately, it allows us to gain a tremendous edge over our competitors.
So, what are you waiting for? Start using FXPRO's Forex Swing Trading Signals Immediately!
Institutional-Quality Forex Trading Signals
If you're a skilled trader, you understand how important it is to find high-quality alerts. And if you're seeking a dependable and trustworthy SMS alert provider, Pipwizard is the ideal choice. Pipwizard provides precise and dependable institutional-quality forex trades. Furthermore, our staff of professional traders gives help and coaching 24 hours a day, seven days a week, so you can always keep on top of the markets.
Technical analysis and price movement patterns serve as the foundation of our swing trading forex system. We use complex algorithms to discover high-probability trade opportunities, giving our subscribers a competitive advantage. And because we only trade swings, we can offer our members incredibly profitable signals for forex traders with a low risk/reward ratio. As a result, even modest-sized trading accounts can profit from Pipwizard's best trading signals.
Superior Trading Technology
Every day, our (SST) Smart Scan Technology analyzes the Forex market. When our algorithm develops a buy or sell signal, we send it to you through SMS right away. About two seconds after the signal is generated, the warning is delivered to your cell phone. An FXPRO SMS Service subscription will supply you with precise and profitable swing trading settings.
The current state of trading technology is far superior to what was available just a few years ago. This means that investors can now use more powerful and sophisticated tools to assess and execute deals. These tools can help traders make better decisions, leading to improved performance over time. Furthermore, the utilization of cutting-edge technologies can help investors reduce losses while improving overall earnings. As a result, trading technology has evolved into an integral component of profitable investing.
No Complicated Rules. No Fancy Technical Indicators
Looking for an easy way to make money with Forex? Look into forex swing trading! Pips are gained by taking advantage of medium-term price volatility in the foreign currency market. Swing trading, unlike other Forex approaches, does not involve the use of complex rules or fancy technical indicators. To get started, all you need is a basic understanding of market mechanics. Swing trading is a highly effective method of making money that does not require any special talents or experience. You only need a basic understanding of economics and the ability to comprehend charts.
FXPRO swing trading signals are designed to make trading in the foreign exchange market easier for you. All you need is a computer and a Pipwizard account to get started. The signals will notify you when they are generated, allowing you to choose which currency pair to buy or sell to earn money. No more guessing! Simply relax and let our FXPRO swing trading strategy handle the rest. Before investing real money, you can also open a test account with your broker to see how accurate the alerts are. You don't need to be an expert in technical analysis or forex trading since FXPRO signals will take care of everything!
Excellent for beginner traders.
Forex swing trading signals are one of the most important tools that professional and part-time traders can use to boost their success. They are a vital component of any trading strategy, and even the most experienced trader can struggle without them. Fortunately, swing signals are not just for seasoned traders; even beginners can benefit from using swing trading signals in their market analysis. Even the most inexperienced trader can gradually and steadily improve their trading skills by identifying and acting on signals in a currency pair.
Forex swing trading is a high-profit, low-risk strategy.
Forex swing trading is a profitable, low-risk method that allows you to hold trades for longer periods. It is based on the premise that currencies move in cycles and that by detecting the current trend and trading in the direction of that trend, you can make more money while taking on less risk. Our signals are generated by our SST software to notify you when a potentially profitable setup is generated. You can then choose which currency pair to trade to earn profits. FXPRO forex swing trading signals are the perfect tool for new and experienced traders alike. It's simple, efficient, and reliable—so you can focus on your trading skills while FXPRO does all the hard work!
One advantage of this style of trading is that it allows you to profit from both rising and declining markets. You can benefit regardless of which direction the market moves by purchasing when prices are rising and selling when prices are falling. Furthermore, because following our FXPRO signals strategy requires you to hold deals for longer periods than day trading or scalping, your losses are likely to be smaller if the trade goes against you. This technique, however, may not be ideal for many investors due to its sluggish pace. Forex swing trading may be too slow for those who like faster-paced trades.
Why Do Traders Love Our Forex Swing Trading Strategy?
FX long-term trading is a popular approach that allows traders to profit from fluctuations in the foreign exchange markets. When done successfully, this approach can deliver considerable gains to investors. FXPRO takes advantage of market volatility and is a smart technique to benefit during periods of significant market instability. Swing traders who can identify the appropriate transactions at the right times can make a lot of money.
Here are four reasons why traders love Forex swing trading:
Day trading is a short-term strategy and is more stressful for beginner traders. One of the main advantages of long-term trading is that it is less stressful than day trading. With day trading, you have to constantly watch the markets and make quick decisions on whether to buy or sell. This can be nerve-wracking and lead to stress and anxiety. With a standard swing trade, you can take your time analyzing the charts and making informed decisions about your trades. This leads to less stress and more peace of mind.
Forex swing trading allows you to capitalize on larger market swings. The primary purpose of swing trading is to capitalize on large market swings while minimizing short-term volatility. By holding trades for extended periods, you can allow them to move in your favor before quitting them profitably.
It's less risky than day trading. Swing traders are less likely to be affected by quick market swings or market volatility because they maintain their positions for longer periods. This makes it a more secure option for people new to Forex trading to not take a major loss on their trading account.
Many traders also prefer to employ long-term forex signals to capture larger forex market fluctuations over time. These signals may not produce as much movement as short-term signals, but they can frequently produce more consistent gains in pips over time.
Risk Management
Forex swing trading is a high-risk investment that should be undertaken only by a forex trader who fully understands the risks involved. Before you begin trading, you should create a plan outlining how much money you are willing to lose on any given day, week, or month. It is also critical to set stop losses on your trades so that you can automatically close them out at predefined exit points if they move in the wrong direction. You may help limit your losses and safeguard your profits by implementing a risk management plan while still allowing for big returns.
FXPRO Signals are sent on forex pairs:
EUR/USD, GBP/USD, USD/JPY, AUD/USD, USD/CHF
FX Pricing
FXPRo Signals. Powerful SIGNAL Options.
FAQ's About Swing Trading
What is swing trading?
Swing trading in forex is a sort of long-term trading in which the trader holds security for several days or weeks. Instead of holding the investment for long-term capital gains, the idea is to profit on price swings within it. To time their deals, swing traders generally employ technical analysis to discover patterns and trends. They frequently trade in multiple time zones to capitalize on opportunities when prices are most volatile.
Is swing trading more profitable than day trading?
Both have benefits and drawbacks, and what works for one trader may not work for another. It all boils down to personal preference and what you are comfortable with in the end. Some traders favor FX swing trading since there is less stress in waiting for the correct trade setting, but others like the fast-paced activity of day trading. Finally, it all comes down to determining what works best for you and sticking to it.
Is there a downside to swing trading forex?
Swing trading has no disadvantages. It is a very profitable and simple trading method that can be employed by both new and experienced traders. Traders can benefit quickly in the FX market by purchasing or selling at the right time. Stop losses can also be used to limit losses in the event of negative market changes. Forex trading signals and forex signal services can also assist traders in making more informed decisions about entering and quitting transactions. Finally, traders can trade in real-time and check how their positions are performing versus the market by using a live Forex stream.
Can I get free forex alerts online?
There are numerous free trading signals available online that traders may utilize to assist them in making buy or sell decisions. While some of these signs may be correct, remember that adopting them does not ensure success in the long-term FX market. Always trade with money you can afford to lose and use a stop-loss order if the trade goes against you. Furthermore, it is critical to select a signal service with a solid reputation and that provides real-time information so that you can make informed judgments swiftly.
What is the difference between fundamental and technical analysis?
Fundamental analysis It is a trading approach that uses economic, social, and political elements to estimate future price changes. Technical analysis, on the other hand, is concerned with previous price movements and uses charts and indicators to discover patterns that may indicate future price changes. Both methodologies have advantages and disadvantages, but many professional traders feel that combining fundamental and technical analysis yields the greatest outcomes.