Daily Forex News: EUR/USD
Recent Market News and Economic Data:
Because of inflation, Japan's real earnings fell by 3.8% year on year in November, the fastest rate in almost 8 years.
Oil continues to rise after the EIA data showed last week's dramatic drop.
Cities in China can establish lower limits on first-home mortgage rates.
Huobi, a cryptocurrency exchange, will lay off 20% of its employees.
Despite a December drop, the UN Food and Agriculture Organization predicts that global food prices will reach a new high in 2023.
European stocks are on track for their best week since November, with inflation data in the spotlight.
In November, retail sales in Germany increased by 1.1% month over month.
Halifax: House prices in the United Kingdom decreased 2.5% in the three months to December, the largest drop since February 2009.
Germany's manufacturing orders fell 5.3% month over month in November, the fastest drop since October 2021.
What to Watch: EUR/USD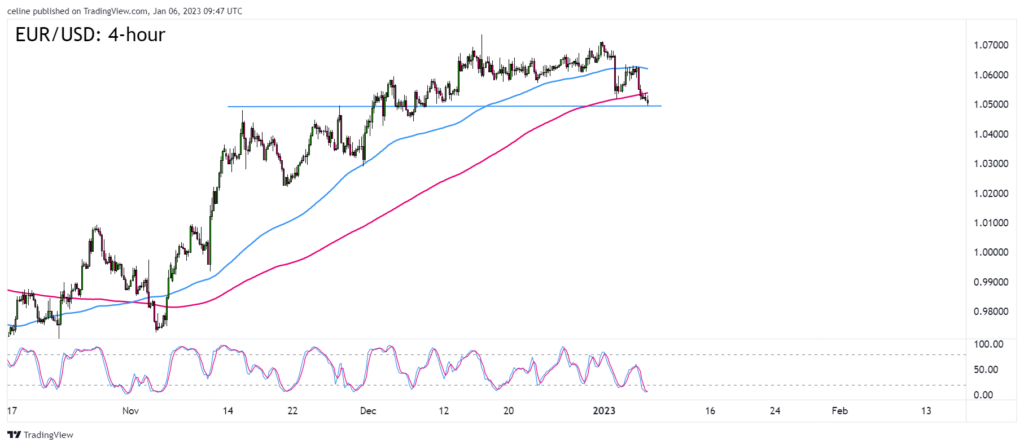 The EUR/USD currency pair has been on a downward trend recently as investors become increasingly concerned about global growth and the prospect of higher interest rates in the United States. This risk-averse sentiment has weighed heavily on EUR, causing it to drop from its high of 1.0700 in December to a psychological level of 1.0500 today.
Today's trading session will be key for determining whether or not this downtrend will continue further into 2023. The US is expected to report weaker labor market numbers for December, which could lead the Federal Reserve (Fed) towards increasing their interest rate policy faster than what was previously anticipated—something that would likely cause more losses for EUR/USD traders who are already feeling cautious due to global economic uncertainty and low inflation figures coming out of Europe's Eurozone region last month (9.6% y/y from 10%).
It remains unclear how these reports may affect markets today, but one thing is certain: Investors should pay close attention when making decisions regarding their positions about this pair! Those who do so will have a better chance of capitalizing on any potential swings in either direction based on what happens during today's trading session – something that could determine whether we see another leg down or some stabilization over time with regard to the EUR/USD going forward into 2023!