2022 Alternative Gold Investing Update: The Week Ahead
For weeks, the gold market has remained inside its trading range. This week appears to be following the same pattern. Gold prices fell below the key $1,850 mark again on Monday. This previous support area has grown in significance in the gold market as it calls into question who is in charge: the bulls or the bears.
However, the yellow metal gained some ground last week as bulls attempted to recover from recent downside pressure. Momentum players and short-term traders may remain on the sidelines until the bulls can deliver a close over the $1,900 area.
Central Banks Still Buying Gold
According to World Gold Council data, central banks purchased roughly 20 tonnes of gold in April. These financial behemoths are projected to be net purchasers in 2022, and for good reason: the conflict in Ukraine has militarized the dollar, and as a result, central banks may seek to diversify away from it. What better way to diversify away from the US dollar than with gold?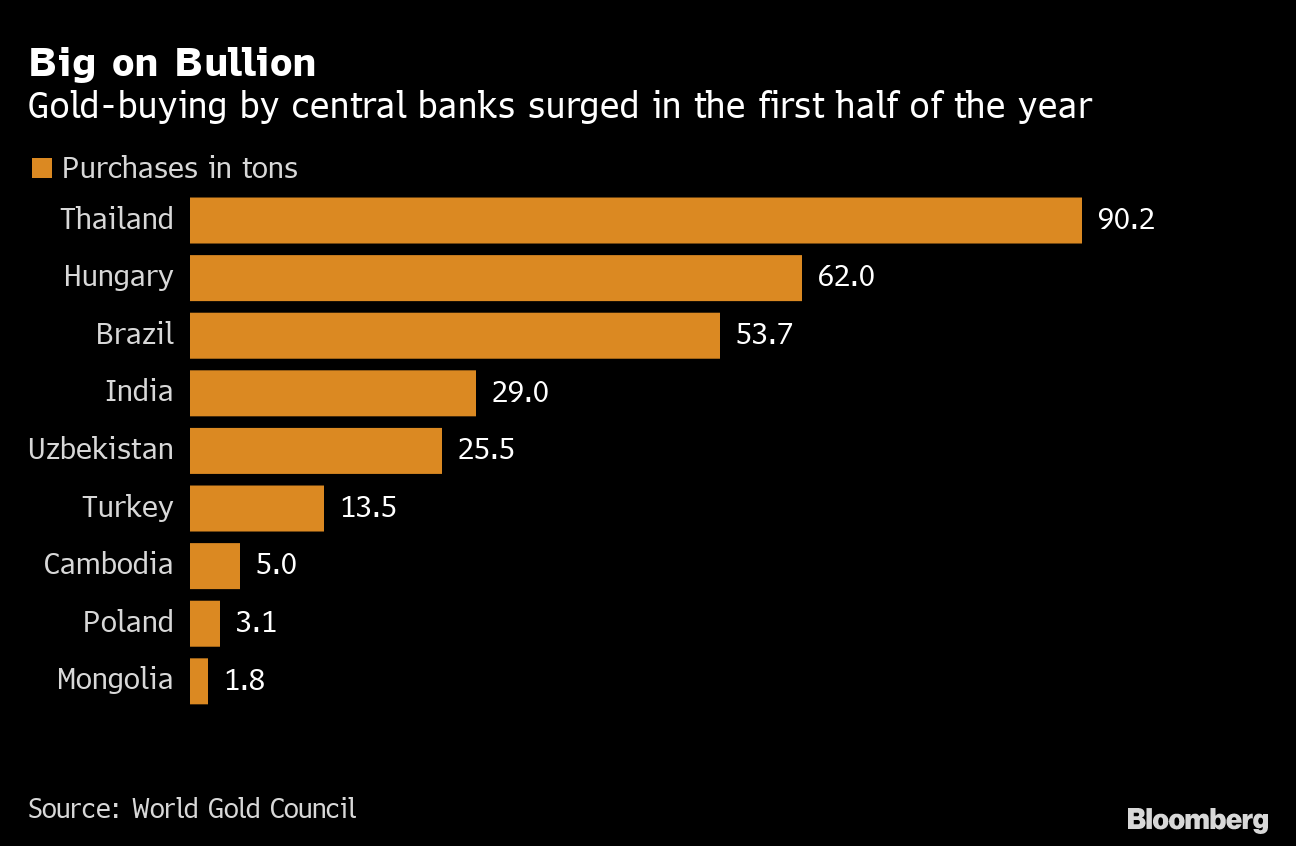 Central banks are the world's most powerful financial entities. These enormous institutions are aware of the value that gold may offer to their holdings. Gold may provide not only credibility to their individual currencies, but also much-needed strategic diversity to their reserves.
The era of central bank asset purchases is quite likely to continue. Given the current economic and geopolitical environment, there may never have been a more critical time for central banks to back up their currencies and activities with gold. Central bank demand for gold may keep prices from falling much further, and may even propel a rise to new all-time highs in the coming months.
Strong U.S. Gold Mint Sales Signal Investor Anxiety
According to kitco.com, the United States Mint sold 147,000 ounces of gold last month. This graphic depicts gold differently than what has been published in the financial media in recent weeks. Despite the fact that gold has remained in neutral territory, failing to expand to the upside or fall, physical demand for bullion may be increasing.
Last month's sales of 147,000 ounces were the highest in May since 2010. It may also send a clear message: investors are worried and looking for perceived safe havens to put their money to work. Gold demand has increased more than 600% this year, and it is expected to rise even more if current trends continue.
The gold market is being pushed not only by inflation but also by hawkish central bank language, the Ukraine crisis, and economic uncertainty, among other factors. These challenges are unlikely to go away anytime soon as the Federal Reserve seeks to combat inflation through higher interest rates, and they may decide the fate of gold in the months ahead.
Although prices have stayed low in recent weeks, the underlying health of the bullion market may be better measured in terms of sales rather than price. It seems reasonable to reason that high bullion sales figures will eventually influence market prices. However, those impacts may take some time to manifest.
DOWNLOAD OUR FREE GOLD IRA GUIDE
Gold Market Technicals Are Still Flat.
The gold market is still trapped in neutral, as it has been for weeks. The market rose, fell towards $1,800, recovered, and is presently experiencing weakness. As prices meander between major support and resistance levels, neither the bulls nor the bears have firm control of the market.
The price levels of $1,800 and $1,900 could be pivotal in determining how the market moves in the next few months. The bulls and bears are attempting to close above and below these levels in order to promote further buying or selling. In the short term, the $1,850 level may serve as a turning point for the market. Previously, this level was an important support for gold until it was breached to the downside. , it may operate as a barrier for the bulls, keeping gold under control for the foreseeable future.
As the Ukrainian conflict rages on with no end in sight, gold and other perceived safe-haven asset classes may profit. Bitcoin, for example, has been trading in a narrow range for some weeks. While the currency is likely to break out of its $4,000 range, it is unclear in which direction that break will occur.
Bitcoin prices rose on Monday, breaking the currency's longest losing streak. However, whether the current recovery will be sustained is questionable, as many of the factors that have driven cryptos lower in recent months, such as inflation, recession risk, and hawkish central banks, remain.
At some point, the risk of bearish difficulties may become less important as the possibility of upside becomes more appealing. When that dynamic shifts, Bitcoin and gold might go off to the upside, destroying many unwary shorts as prices recover to all-time highs or higher.
---
Actions: